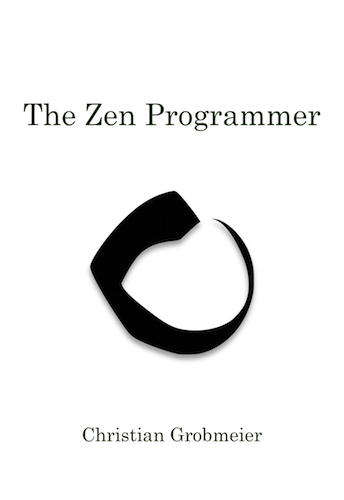 The Zen Programmer
This book will teach you that there are more than just emails, phone calls, and urgent issues. What Zen teachers told us hundreds of years ago is still true today: we can say "No" and have our lives in our own hands. Zen is not only for famous corporate leaders like Steve Jobs. It is for you. It is not for weekends. You can practice Zen at any time, even right now, this second.

Who should read this book?
For you, who are killed by work.
Every day you come back home and don't know what you have done the whole day. You probably have fantastic new hardware, but are not happy with it. Maybe you have a lot of money. But you can't enjoy it, because you are afraid you might lose your job tomorrow. You don't like what you do, but you have no other choice. You feel there is more to life than phone calls, social networks, and people who get on your nerves. But you are caught. And in the end your only fear is that nobody could continue your work, should you suffer a heart attack over lacking documentation.
Why this book?
For you, who don't want to listen.
How many hours are you working? 80? 60? Or just 40? Doesn't matter. You have no time. There is still something which makes you curious about Zen. Top managers practice Zen. They must have learned about it without investing a lot of time.
This book explains Zen with a language you already understand. No esoteric phrasing. No cryptic wording. No magic. It is made by a programmer for programmers. But it can be read by anybody who is working in a project environment. And it can be read quickly.
Why believe me?
For you, who are sceptic.
I once worked a lot. Around seventy-five hours a week. I was messed up and didn't see a way to get out--until I started with Zen practice. Since then I say "No" more often, smile more often, and, at the same time, deliver better quality to my customers.
I didn't look for a new religion. And I don't preach one. You'll read how Zen had an impact to me.
I want a sample.
For you, who are full of doubts.
I recommend you read the 10 rules of a Zen programmer. It sums up a lot of the core of the book.
Opinions
Alin Radulescu

"A positively provoking and inspiring manual for a better life as a programmer. Christians book is a guidebook. With concrete examples he explains the way from a hard-working and frustrated programmer to a programmer who still works hard but is happy with himself and the world around. "
Alin is working as a SEO Expert for Opendi AG in Germany.
Chris Buckett

"As a passionate student of Zen, Christian Grobmeier saw that other software developers like him would benefit from applying Zen principles to the art of programming. Using compelling imagery combined with practical steps, Christian successfully introduces the reader to Buddhism and the path toward developer enlightenment Along the way you'll encounter the Gadget Ghost and discussions on motivation, changing requirements and burnout. Developers have many frustrations, and with a calming word, Christian highlights them and makes you realise that these frustrations, while very real, are actually smaller than they seem. In the chapter on Kizen, for example, in which you are taught about focus and chaos, you'll probably identify with the programmer who flits from IDE to twitter to email, taking a long time to get into the zone. Christian takes us from this place to one of focus, effectiveness, and self discovery. All in all, Christian makes a compelling case with his reassuring words that by invoking the Ten Rules of a Zen Programmer, you will be happier, more focused, with less ego, and your family will thank you for it."
Chris Buckett is a developer from UK. He is an early adopter of the Dart language, wrote "Dart in Action", and runs a well-known blog with the name Dart Watch.
Who wrote it?

Christian sold his first website back in 1998. Since then he worked as a web developer, a consultant, an architect, a manager, a tester, and much more. He has had many different customers: banks, tiny companies, and huge merchants. He has worked in open spaces together with eighty other people and alone in his home office. At a time when he worked seventy-five hours a week and could have become an actor in a Zombie movie without makeup, he started practicing Zen.
Since then, the way he worked has changed significantly. He has learned to say "No" and can almost fall asleep when he is tired. He delivers better products and smiles more often.
Today, Christian is building up his own company and provides freelancer services. In his free time, he practices Zen and studies Psychology at a German university.
Got a question?
What does the book cover?
I write about some facts on Buddhism and how I applied it to my own life and daily work. In the end, you'll understand the origins of the "Ten rules of a Zen programmer".
Are you a Zen monk?
No. I have practiced Zen since 2006. This book is not the book of a Zen master. It is the book of a guy who could change his mind with Zen.
Will I become a better programmer?
Do you become a better programmer because you read a book on your favorite programming language?
How did you make this book?
I have proudly used Leanpub to write the manuscript in Markdown. It's a great system and I recommend it to anyone who wants to write and publish. If you prefer to buy your book on Leanpub please do so.
What if I don't like the book?
If you bought the e-book at my own shop: shop.opensource.io, I will fully refund you within 30 days. No questions asked. Just drop me an email.
If you got the book via Leanpub, you'll also get a 100% refund due to their unconditional happiness guarantee. Read more about it here. Please contact Leanpub.
I can't refund translations or purchases of the book in other places.
What do I get?
If you buy from Amazon you will receive a paperback book. If you buy from my shop or from Leanpub you will receive the book in the formats PDF, mobi and epub.
I don't have enough money to buy this book?
Please drop me an e-mail and tell me your story.
I want to pay with Euro but have it on Leanpub.
If you bought a book in my shop I will give you a coupon for Leanpub at no additional cost. Actually the plan is you can redeem a voucher for Leanpub in my shop on your own. Until this was implemented just drop me a mail.
How can I order the print edition in my local book store?
Ask your trader to search for one of these ISBN numbers:
ISBN-10: 149354179X
ISBN-13: 978-1493541799
Can I order without credit card?
I accept bank transfer and Bitcoins. Since this is a manual process you need to contact me for details.